Today I graduated with an MBA degree from UofT. A two-year course that took me a little more than three years to complete, what with the joyous arrival of little D.
The convocation was such a special occasion I wanted to write about it before the beautiful bits of it disappeared into that place where time bends memory out of shape.
Honorary Degrees were conferred on two ladies - Barbara Hannigan and Mary Morrison - who then addressed the audience. Morrison turns 91 years old tomorrow, and she is still teaching music at UofT. Hannigan is an accomplished vocalist, composer and conductor, and she performed Alban Berg's Die Nachtigall (The Nightingale). An opera performance at my convocation ceremony was an unexpected source of bliss!
Hannigan's speech was also soul-stirring. There were a few words that opened my eyes to something familiar but new, and I wanted to record that sentiment here. Among other things, she talked about the healing power of music and said we should look to applying our talents to help heal.
Most of my MBA journey was marred by a lot of angst and internal conflict. A huge chunk of my post-partum year was also consumed by a lot of unresolved anger and internal struggle. And hearing Hannigan's words, I realized I am done being consumed with anger. My own and that of others. Looking back now, I realize my anger was a useful survival tool at the time. Studies, moving to a new country, the unexpected ways parenthood changed our lives - all had become too overwhelming and I felt as if I was collapsing under it all. I held on to my anger almost like a talisman, as if without the sheer force of it that kept me going through the day each day, I'd quite simply fall apart.
I have survived. And now I want to thrive. And so I want to leave that anger behind me. It has outlived its usefulness. And now it is only holding me back. Because beauty cannot exist where anger does. As I enter this next phase of my life, I take the symbols of beauty that were offered to me today as signs from the Universe as to where I am headed next. And I am overjoyed.
It was a lovely day today. Blue skies, white clouds, warm sunshine ... Only a little nip in the air.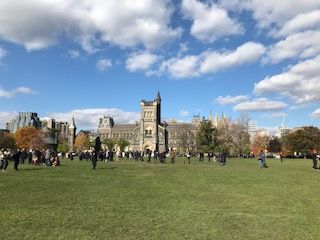 One of the graduands/graduates today was a middle-aged lady with a service dog. A beautiful labrador named Maggie. Maggie wagged her tail joyously the entire time she was on stage; she knew what a proud moment it was for both of them.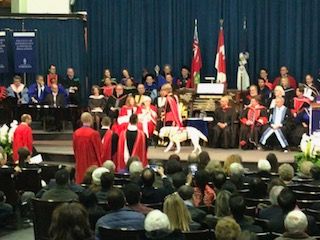 And look at me with the deer-caught-in-the-headlights look. Clueless. Eyes wide with wonder. Waiting in the marshalling room. In anticipation. In excitement. As if waiting for someone to give me permission and say, "Now you can rise and see the magic all around you!" Truth is, I am all the permission I ever needed.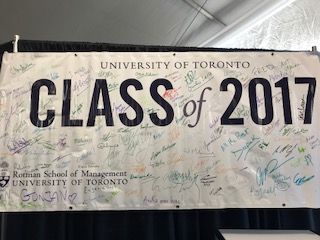 (Thing(s) to remember: I was almost reluctant to go to the convocation. Most of the MBA cohort graduates in June, and my batch graduated in the summer of 2016; so I was positive I'd know absolutely no one graduating today. The other, more important reason was that the timing of the ceremony would have clashed with D's naptime, which meant KrA would have had to stay at home with D while I went to get my degree alone.
Two things happened. I attended the ceremony without KrA and D but met a few other graduates with whom I shared a lot of laughs and fun. I also bumped into a lady I had taken two courses with, and there was the familiar face I had been seeking. The other thing was that KrA and D joined me for the after-ceremony celebrations, so I was a very happy person during and at the end of it all.)
the nightingale, a dog named Maggie, and a degree